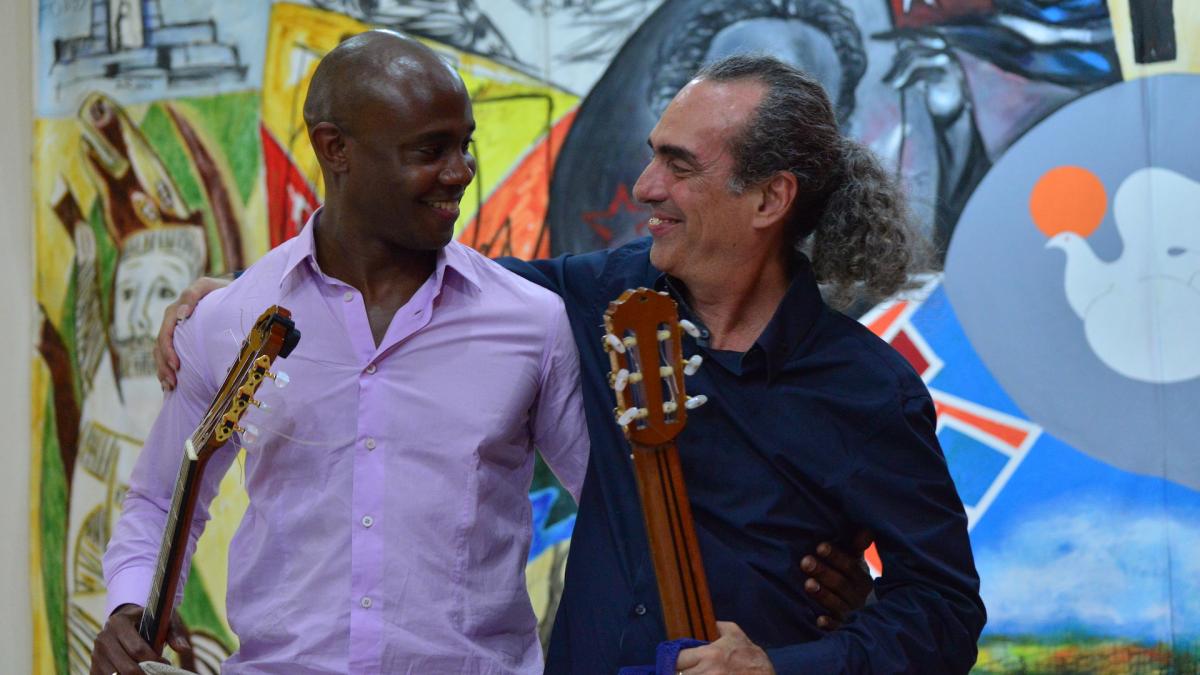 Latin
Eduardo Martin and Ahmed Dickinson Cárdenas
-
Tickets £20.00
£5 tickets "for those who need them - no questions asked"
Ahmed and former mentor, grammy-nominated Eduardo, both amazing Cuban acoustic guitarists, perform their mix of jazz, flamenco and Cuban!
Ahmed Dickinson Cárdenas
Described as "a true pioneer" (Classic FM Magazine), award winning London-based Cuban guitarist, Ahmed Dickinson Cardenas, is one of the finest performers of the Cuban classical guitar school. Recent engagements include performances at the Royal Albert Hall and Barbican, as well as a tour to Spain, Malta, Azerbaijan, England,Scotland and Ireland promoting his sixth album "The Bridge" in collaboration with Grammy nominee composer Eduardo Martín.
A sophisticated virtuoso, the Havana-born Dickinson Cardenas has performed at prestigious venues including the Royal Albert Hall, Wigmore Hall, The Sage Gateshead, Queen Elizabeth Hall and Barbican. He has given live performances on BBC Radio 3 and BBC London. He has also featured at prominent festivals including LondonClassical Guitar Festival, Oxford Lieder Festival, Ards Guitar Festival (Northern Ireland), Dublin Guitar Week, Hispano-American Guitar Festival (Mexico), Identidades International Guitar Festival (Cuba) and Havana International Guitar Festival.
Dickinson Cardenas is widely recognised as an ambassador both for the music and musicians of his native country. In 2008, Ahmed founded Cubafilin Records – a record label dedicated to the exclusive promotion of Cuban musicians and their original works. For nearly ten years, Dickinson Cardenas enjoyed the great privilege of collaborating with the prolific late guitarist and composer - Jose Antonio (Ñico) Rojas. Ahmed transcribed Rojas; extensive unpublished works during this period, and subsequent performances and recordings earned two prizes at the Cubadisco Awards 2009, Best Instrumental Soloist; Best Instrumental Album. The same album was nominated for Best Artist; Best Newcomer in Songlines World Music Magazine, and Best Album; and Best Single at the Latin American Music Awards UK.
Eduardo Martin
Eduardo Martín (Havana 1956) is an internationally recognized guitarist and composer. He is one of the most sought-after composers of contemporary guitar; and his works are performed and recorded on five continents, reaching ever-higher levels of diffusion.
For many years, he has been a professor at the University of the Arts (ISA) in Cuba. Internationally, he has taught at Guildhall School of Music and Drama in London; the Universityof San Antonio in Texas, USA; the Shepherd University in Shepherdstown, West Virginia, USA; the Conservatory of Vic in Catalonia, Spain; the Manuel de Falla Conservatory in Buenos Aires, Argentina; the Institute of Fine Arts in Cali, Colombia; the Autonomous University of Honduras, UNAH; the Autonomous University of Mexico (UNAM) in Mexico; both the University of Costa Rica (UCR) and the National University of Costa Rica (UNA); the National Conservatory in Mexico; and the Superior Conservatory of Music of Navarra in Pamplona, Spain, among others.
His music catalogue includes a large number of works for solo guitar, voice and guitar, as well as instrumental duos, trios, quartets, chamber ensembles and symphony orchestra. He has also written soundtracks for theatre and film. In his frequent international tours, he performs recitals, master classes, seminars andworkshops, to great acclaim by both specialists and general audiences.
Arts Council of Northern Ireland

Supported by Lottery Project Funding from the Arts Council of Northern Ireland