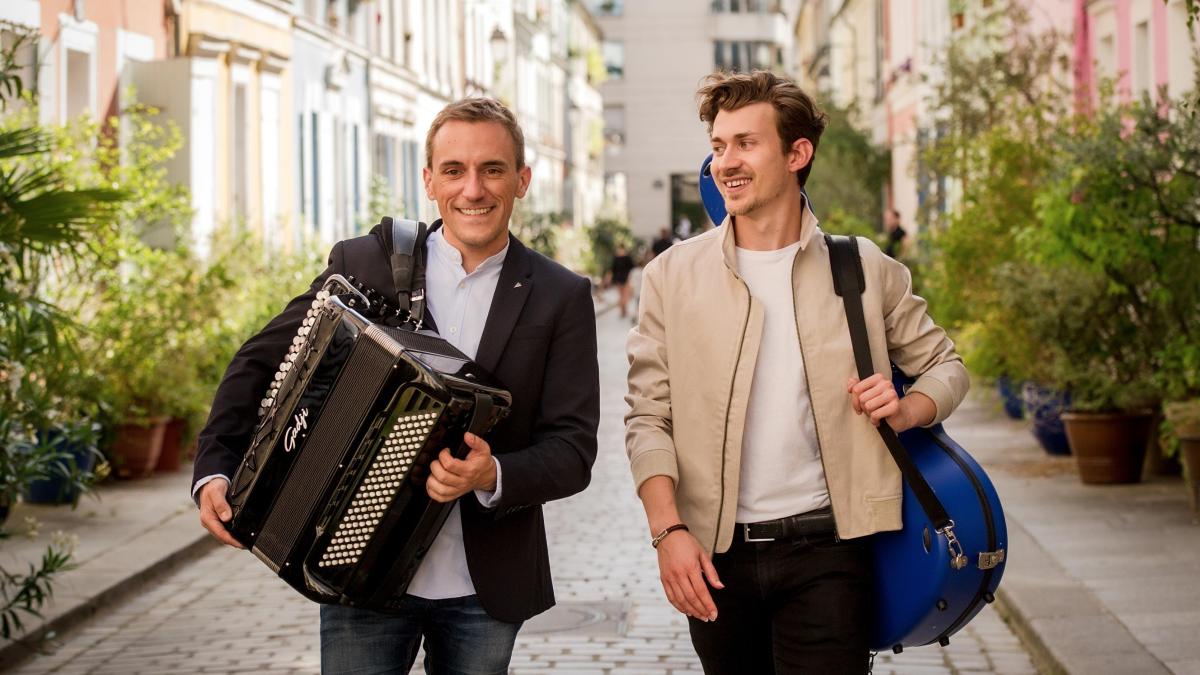 Classical
Felicien Brut and Thibaut Garcia: accordion and guitar
-
Tickets £20.00
Thibaut Garcia, classical guitar, and Felicien Brut, accordion.
RESCHEDULED - THIS CONCERT ORIGINALLY SCHEDULED FOR 19 FEB 2022 HAS BEEN RESCHEDULED TO SAT 28 MAY at 7.30pm.

All existing tickets remain valid for the new date. You may request a refund if you prefer by emailing [email protected]
VOL DE NUIT (Night Flight – after the novel of Antoine de Saint-Exupéry)
Them, the travelling companions, the fetish instruments of nomads, sailors, adventurers of all kinds;
Them, the unclassifiable, the tools of a perpetual transgression of pre-established musical borders and stylistic preconceptions;
Them, the transportable polyphonics, the only ones or almost the only ones, sometimes singing, sometimes harmonising, so similar and yet so different;
They, the guitar and the accordion, have a common history, many common histories. This is what characterises them, their multiple facets, their mixed roots, their unwritten futures...
Saint-Exupéry juggled with words : these two accomplices will juggle with notes but they too invite you to a captivating Night Flight...
Programme
Introduction and Fandango (6'00) by Luigi Boccherini *
Zita (4'20)
from the Troileana Suite by Astor Piazzolla
El Corazón Al Sur (3'30) de Eladia Blázquez
Alborada del Gracioso (6'00) by Maurice Ravel **
Sacrificio (3'30)
by Regino Sáinz de la Maza (solo guitare)
Tango pour Claude (4'00) by Richard Galliano
(solo accordéon)
Waltzes Medley (8'30)
À Paris dans chaque Faubourg - La Ritale - La Complainte de la Butte - La Foule
by Maurice Jaubert, Jean Corti and Jo Privat, Georges van Parys, Angel Cabral *
Ernesto Nazareth (4'50) from the Retratos Suite by Radamès Gnattali *
Chiquinha Gonzaga (6'10) from de la Suite Retratos
by Radamès Gnattali *
* arrangements for guitar and accordion by Simon Cochard ** arrangements for guitar and accordion by Thibault Perrine
Programme provided for information only and subject to change.
Thibaut Garcia
Thibaut Garcia, the Franco-Spanish guitarist, was born in 1994 in Toulouse, where he began learning the guitar at the age of seven. He then won the guitar prize in the class of Paul Ferret. At the age of 16, he was admitted to the Conservatoire National Supérieur de Musique et de Danse de Paris, in Olivier Chassain's class, while at the same time benefiting from the guidance of Judicaël Perroy.
At the age of 16, he was awarded the First Prize at the Ana Amalia competition in Weimar, Germany. Since then, he has won the first prize in several international competitions, in particular the Guitar Foundation of America at Oklahoma City, USA, in 2015, the José Tomas at Petrer, Spain, in 2014, and the International Competition of Seville, Spain, in 2013. Since then he has been asked to sit on their juries and to give master-classes. In 2015, he was named sponsee of the Académie Charles Cros. In 2019, he was named 'Instrumental Revelation' at the Victoires de la Musique Classique.
Thibaut Garcia is now being invited by the greatest guitar festivals worldwide: Australia, Canada, Spain, Finland, Switzerland, Belgium, Germany, France, Italy, Montenegro, Chili, New- Caledonia, the USA, Brazil, Argentina, Mexico, Romania, Russia... Since September 2016, he has been on tour in the USA and Canada, where he gave over 60 recitals during the entire season. He also performs recitals at the Festival Radio France Occitanie Montpellier, the Festival Toulouse d'Eté, the Auditorium de Bordeaux, the Konzerthaus Vienna, the Concertgbouw in Amsterdam, the Tchaikovsky Hall in Moscow, the Salle Bourgie at Montréal, the Centre de Musique de Chambre de Paris
Salle Cortot, the Auditorium of the Musée d'Orsay, or the Grands Interprètes of Toulouse, the Festival Musiq'3 in Brussels, at the Seine Musicale...
In 2016, Thibaut Garcia made his concerto debut with the Orchestre National du Capitole de Toulouse. He has appeared in other concertos in the next few months, especially with the Baden-Baden Orchestra, the Orchestre National de Montpellier, Orchestre de Cannes PACA, and the Orchestre de Dijon- Bourgogne, and the BBC orchestras.
In 2017, Thibaut Garcia is appointed BBC New Generation Artist, which leads him to perform in recitals and in concerto in the UK. That year he notably made his debut in London's Wigmore Hall.
When it comes to chamber music, Thibaut Garcia has played with Edgar Moreau, Raphaël Sévère, Jean-Frédéric Neuburger, Antoine Mornière, Boris Grelier, Anaïs Constans, La Marca brothers, Kathryn Rudge...
In 2016, he signed exclusively with Warner Classics/Erato for his recording projects, with a first release Leyendas. His second album, Bach Inspirations, was released in the fall 2018.
Félicien Brut
Félicien Brut est devenu, en quelques années, le représentant de l'accordéon dans la nouvelle génération de musiciens classiques français, défendant ardemment le caractère polymorphe de son instrument et suscitant la création d'un nouveau répertoire lui étant dédié en musique de chambre et avec orchestre.
Né en 1986 en Auvergne, terre de musique traditionnelle par excellence, Félicien entame sa formation musicale dès l'âge de six ans en abordant, en premier lieu, le répertoire musette et populaire intrinsèquement lié à l'histoire de l'accordéon. En 1996, il intègre le CNIMA-Jacques Mornet, école phare pour son instrument où il découvre, au contact de nombreux accordéonistes français et étrangers, les répertoires swing, classique et contemporain. Sans choisir une esthétique plutôt qu'une autre, il va très tôt affirmer son envie de travailler dans tous les styles, dans tous les répertoires.
En 2007, Félicien réalise l'exploit de remporter successivement les trois plus grands concours internationaux d'accordéon existants : le Concours International de Klingenthal en Allemagne, le Concours International de Castelfidardo en Italie et le Trophée Mondial d'Accordéon à Samara en Russie. Ces récompenses le propulsent dès 2008 sur les scènes internationales de nombreux festivals en Russie, Italie, Norvège, Finlande, Portugal, Serbie.
En avril 2016, Félicien son premier album Soledad del Escualo avec le Trio Astoria, formation dédiée au Nuevo Tango d'Astor Piazzolla, mais c'est l'année 2017 qui marque un tournant majeur dans son parcours. Il choisit en effet de s'entourer du Quatuor Hermès et du contrebassiste Édouard Macarez pour donner vie à l'étonnant projet "Le Pari des Bretelles", se fixant pour défi de réunir musette et musique classique
au sein d'un même programme. Le succès de cette formation est immédiat et l'amène à se produire dans des salles et festivals prestigieux comme la Seine Musicale, la Folle Journée de Nantes, le Festival Classique au Vert, les Flâneries Musicales de Reims, etc.
En Juillet 2018, Félicien fait ses débuts avec orchestre. Il est l'invité du Festival "Un Violon sur le Sable" à Royan pour la création de Caprice d'accordéoniste, pièce pour accordéon soliste et orchestre symphonique, commandée à son com- positeur fétiche Thibault Perrine. Il créé ensuite, en avril 2019, Souvenirs de bal avec l'Orchestre de Cannes. En parallèle, Félicien continue de mener de nombreux projets de musique de chambre avec les plus brillants des musiciens de sa génération : le guitariste Thibaut Garcia, la trompettiste Lucienne Renaudin-Vary ou le mandoliniste Julien Martineau. En 2020, il créé un nouveau programme pour accordéon et quintette à cordes, toujours en compagnie du Quatuor Hermès et Édouard Macarez. Ce programme intitulé Neuf devient aussi un disque, paru sous le label Mirare. Il rend hommage à l'immense Beethoven à travers neuf créations originales signées de neuf compositeurs d'aujourd'hui.
En 2021, Félicien rendra hommage au Maître du tango Astor Piazzolla, dont nous fêterons le centenaire, avec un quintette qui verra le jour et rassemblera Jordan Victoria, Thibaut Garcia, Thomas Enhco et Édouard Macarez autour de lui. Côté créations, de nouvelles œuvres pour accordéon et orchestre verront le jour ainsi qu'une pièce signée Thierry Escaich, pour trompette et accordéon, qu'il créera en juin 2021 aux côtés de Lucienne Renaudin-Vary.
Félicien joue sur un Bayan Gadji conçu, accordé et entretenu par Stéphanie Simon.
Supported by
Arts Council of Northern Ireland

Supported by Lottery Project Funding from the Arts Council of Northern Ireland