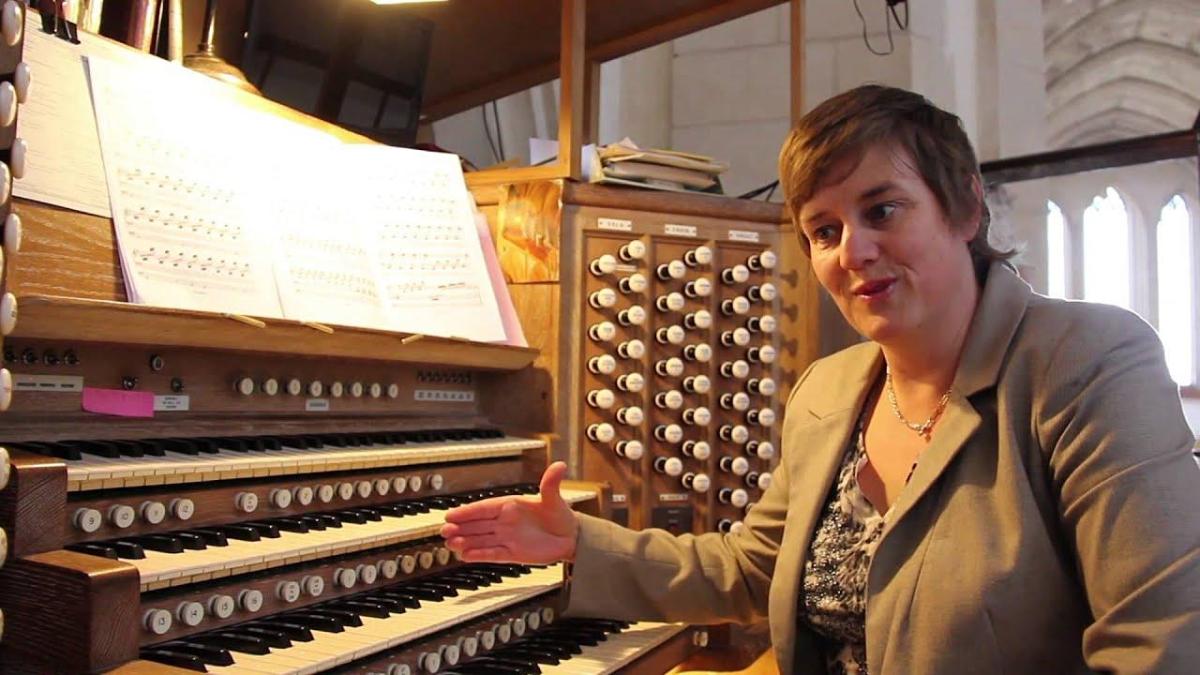 Other
Katherine Dienes-Williams: Organ Recital
-
Tickets £15.00
We are delighted to welcome Katherine Dienes-Williams to Portico for an organ recital.
Programme: 'Sun, Moon and Stars'
Part 1:
Prelude and Fugue in D major - Dietrich Buxtehude
Versets sur 'A solis ortus cardine' - Jean Titelouze
Light, revealing - Grace-Evangeline Mason
Hymne au soleil - Louis Vierne
Here comes the sun - Paul Ayres
Sun Dance - Bob Chilcott
Fiat lux - Théodore Dubois
INTERVAL
Part 2:
Clair de lune - Louis Vierne
Meditation on Ukranian folksong 'The Moon in the Sky' Opus 103 - Vidas Pinkevicius
Clair de lune - Claude Debussy arranged Alex Cellier
Church bells beyond the stars - Cecilia McDowall
Versets sur 'Ave maris stella' - Jean Titelouze
Star Fantasy - Kristina Arakelyan
This concert is supported by the Arts Council of Northern Ireland.
About Katherine
Katherine Dienes-Williams, MA, BMus, FRCO, LTCL, Hon. FRSCM, Hon. FGCM was appointed Organist and Master of the Choristers at Guildford Cathedral in January 2008 following six years as Director of Music at the Collegiate Church of St. Mary, Warwick. In May 2022 she was appointed the first ever female President of the Cathedral Organists' Association.
Katherine was born and educated in Wellington, New Zealand and studied for a BA in Modern Languages and a BMus at Victoria University, Wellington. Katherine was Organ Scholar at Wellington Cathedral from 1988 to 1991 when she was appointed Assistant Organist there.
Katherine came to England in 1991 to take up the post of Organ Scholar at Winchester Cathedral and Assistant Organist at Winchester College. She has also held posts as Organist and Assistant Director of Music at the Metropolitan Cathedral of Christ the King, Liverpool, Assistant Organist and Director of the Cathedral Girls' Choir at Norwich Cathedral prior to moving to Warwick as Director of Music at the Collegiate Church of St. Mary.
She is a Council member of the Royal College of Organists and a trustee of the Organists Charitable trust and is regularly asked to be a guest choral workshop leader for the Royal School of Church Music in the UK, South Africa, the USA, Canada, and Australia. Katherine has given several organ recitals in the United Kingdom, New Zealand, Germany, U.S.A., Bermuda, the Netherlands, South Africa, Australia, Spain, and Singapore. She has performed as organ soloist with the Royal Liverpool Philharmonic Orchestra, the Hallé, the City of London Sinfonia, Southern Pro Musica, and the Royal Philharmonic Orchestra. In 2018 she performed the Saint-Saëns Organ Symphony in the London's Royal Festival Hall with the Royal Philharmonic Orchestra, and again in May 2018 with Southern Pro Musica in Guildford Cathedral. She is also active as a composer, having received several commissions both in the UK, the USA, and New Zealand.
Katherine holds a Master of Arts in Music and Liturgy from Leeds University. She features both as organist and choral conductor on several recordings. She is in demand as a choral workshop leader in the UK, the USA, and several other European countries. In summer 2019 she directed the St. Thomas' girl choristers' course in New York and did so again in summer 2022 as well as tutored on the Oundle Organists' course. Other interests include languages (her BA is in French and German), travel, reading and fitness. She is a Knight of the Grand Order of Vitéz and a Knight of the Order of St. Ladislau (Hungary).
Katherine is married to Patrick Williams, and they have a daughter (Clare College Choral Scholar) Hannah.
Arts Council of Northern Ireland

Supported by Lottery Project Funding from the Arts Council of Northern Ireland